Four steps to show inserts in Ableton Live
We all love the flexible workflow in Ableton Live when it comes to plug-ins and effect chains. But sometimes you want to see all devices / plug-ins in the mixer simultaneously without constantly changing the channel selection. There's any easy trick to show inserts in Ableton Live !
1. Time for some texting!
Create a new file called Options.txt (it's a plain text file which activates/deactivates some hidden features)
---
2. The right command
Place the following command in the text file: "-ShowDeviceSlots" (without the quotation marks)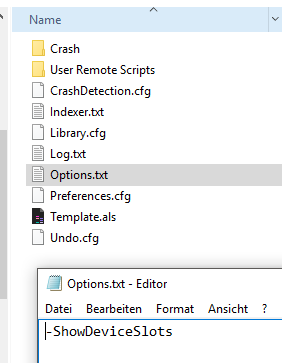 ---
3. The correct folder
Now move this file into the corresponding folder, depending on your operating system / platform:
Mac OS X: Macintosh HD:/Users/[username]/Library/Preferences/Ableton/Live x.x/
Windows: C:\Users\[username]\AppData\Roaming\Ableton\Live x.x\Preferences\
---
4. Restart
When you relaunch Ableton Live a new icon appears on the lower right side, directly under the I/O-icon. As soon as it is activated a new section appears in the mixer view which shows all device slots simultaneously.